International speakers on the Best Marketing Practices conference
On May 26-27 at the Best Marketing Practices conference within the KIAF it will feature international speakers/members of the jury of KIAF – creative directors of leading agencies in Europe and Asia, multiple holders of prestigious industrial awards including Cannes Lions. The event will take place in Kyivv Planetarium ATMASFERA 360, Kyiv.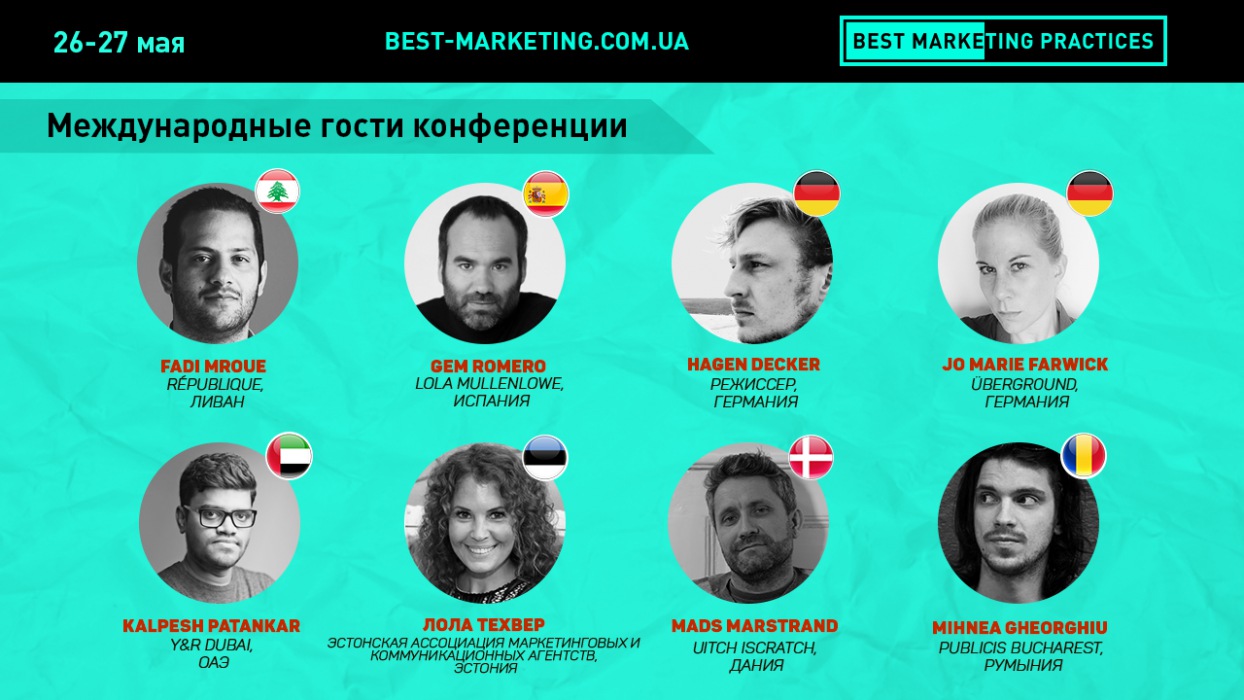 Get acquainted with all the international speakers.
MADS MARSTRAND
CEO & Founder, Uitch Iscratch, Denmark, Jury Chairman of Film Craft and Branded Content & Visual Storytelling of KIAF
Mads Marstrand is the CEO and founder of Uitch Iscratch. He has been working with film since 1995, and produced since 2005 and had Uitch Iscratcvh, which is one of the leading commercial production companies in Denmark since 2007.He has filmed in about 150 countries and shot for clients from Coca-Cola, United Airlines, Turkish Airlines, Lufthansa, most car manufacturers, food producers, main European large supermarket chains, fashions clothes brands, etc. He won a few awards at the Danish Commercial festival and also won for best music video in Holland once.
JO MARIE FARWICK
Executive Creative Director & Partner, Überground, Germany, Jury Chairman of Film & Radio contest of KIAF
Jo Marie has many awards developed from ADC Germany/Europe/New York, LIAA, red dot, etc. (Few Gold, some Silver, many Bronze in Print, Film and Copy) to more digital awards like NY Festival Interactive, Clio Interactive, Titanium Integrated in Cannes. In these times she invented the job title Hybrid Creative Director which is now adopted by many others in the business.
2011 she was founding member and partner of the Hamburg office of Heimat. Until the end of 2015 she was overseeing more than 60 people and responsible for brands such as Bitburger Brewery and Siemens. Before that she was Chief Creative Director at Jung von Matt. She worked for some car clients such as Mercedes Benz, BMW, MINI and Audi and also made stuff for Nintendo, eBay, Tetra Pak, DMAX, MTV and many more. She totally appreciated working on Lamborghini – a brand that is viral itself; and for IWC – maybe you know some of her headlines.
GEM ROMERO
Head of Planning Barcelona, LOLA MullenLowe, Spain, Jury member of Print&Publishing and Media contests of KIAF
May 26
Speak with the theme of "What's next in Brand Strategy? Ethics."
Gem received a degree in Business Administration & Management and an MBA from ESADE. He started to work in Advertising back in 1998 at SCPF an independent agency within WPP. He then worked at a consultancy called Planners, which WPP also bought and aligned with the international consulting group Added Value.Later he went to work in Madrid at the advertising agency TAPSA, as General Director of Strategy. A few months later this agency was also bought by WPP and today is part of the Young&Rubicam group. In 2010, tired of the weekly commute from Madrid to Barcelona he began working Bassat Ogilvy Barcelona, as the Creative Strategy Director, until March 2014. Currently, he is the Head of Planning at LOLA, part of the MullenLowe group. Throughout his career he has worked for great names in advertising like Vodafone, Nike, Mutua Madrileña, Banco de Santander, la "Caixa", Coca-Cola, Heineken, Damm, San Miguel, Unilever, Nestlé, SEAT and also with lesser known brands and names. He has been on different festivals and contests as jury members.
MIHNEA GHEORGHIU
Group Creative Director в Publicis Bucharest, Romania, Jury member of Digital & Mobile contest of KIAF
May 26
Mihnea will speak with the theme «The power of doing».
Mihnea got into advertising when he was 19, in Leo Burnett Bucharest. In the years that followed, he worked in Paris, London, Madrid, Toronto and New York, for brands like Xerox, Mattel, P&G, Bacardi, Land Rover, Virgin Atlantic, MTV, Canon, UNIQLO, Oreo, cigarettes and political campaigns. The work he created and creative directed over the years has won Cannes, Clio, One Show, Young Guns, Andy, D&AD, New York Festivals, Art Directors Club, London International, Eurobest, Epica, Golden Drum, Effie and mean comments on some advertising blogs. Mihnea likes to think of new things to say or new ways to say the same things. He really enjoys that stuff. That, and raccoons. Mihnea thinks that raccoons are cool. Since 2013, Mihnea is a Group Creative Director in Publicis Bucharest. And, since 2016, he's the Vice President of Art Directors Club Romania.
KALPESH PATANKAR
Executive Creative Director, Y&R Dubai, UAE, Jury Chairman of Design & Branding contest of KIAF
May 26
Kalpesh started his career in June 2000 at Saatchi & Saatchi in Mumbai, India. Soon after, his work on Ariel elevated him to be ranked No.1 Creative in India by Campaign Brief Asia. In August 2004, he joined McCann Erickson, Malaysia, and in December the following year, moved to Ogilvy Singapore, winning several accolades. Two years later Kal moved to the Middle East and brought the region its first double Cannes Gold Lions, along with a Grand Prix at the Dubai Lynx. Kal, working along side Shahir Zag, was instrumental in helping Y&R Dubai became the most awarded Middle East agency in Cannes Lions history winning 4 golds, 4 silvers and 4 bronzes at Cannes Lions 2013. He also helped Y&R Dubai win Dubai Lynx Agency of the Year for 3 years in a row from 2011 – 2013. The award included the first ever Design Grand Prix among other accolades. Kalpesh's work has been honored at many international award shows like D&AD, One Show, Dubai Lynx, Clio, London International, Spikes Asia, New York Festivals, Adfest, Young Guns, EPICA, Loeries and Abbys. Among them, are 6 Cannes Lions gold and 2 coveted gold Andy Awards. Kal has served on the jury at the Art Directors Club Awards, The New York Festivals, The Loeries, Mena Cristal and Adfest 2013.
HAGEN DECKER
Director, Germany, Jury member of Film Craft and Branded Content & Visual Storytelling contests of KIAF
May 26
Hagen will speak with the speech on topic «The worst shoot of my life, but the film is Great».
Multiple "best music-video of the year" Echo-Nominee, Hagen Decker belongs to a bunch of young, and talented avant-garde directors that has left a strong imprint on the genre itself over the last coupe of years.He worked with wide range of leading german bands and musicians such as Tim Bendzko, Jupiter Jones, Juli, Frida Gold, Polarkreis 18, Madsen and many more, while his music-videos generated over 470 million clicks only on YouTube. His commercials for Pepsi, Schwäbisch Hall, Swiss Life, BASE, Volkswagen, BKK Mobile Oil, Granini, Zalando, were jury faves and earned a couple of nominations in the category "Best advertising". In 2013 he was rewarded as a "Best director of the year" for his exceptional visual campaign for Schwäbisch Hall. Decker represents an opulent yet empathic visual language. He creates a broad range of optically multifaceted and contentual fascinating works, making use of the most different stylistics and the most innovative techniques.
FADI MROUE
Founder & Creative Director, République, Lebanon, Jury Chairman of Digital & Mobile contest of KIAF
May 26
He will speak with the speech on topic «Tradigital Marketing: Why Traditional is actually Digital».
Fadi Mroue is Founder and Creative Director of République, a digital agency based in Beirut and Dubai. Over his 12-year trajectory, he has accumulated over 30 local and international awards including New York Festivals, Cresta, MENA Cristal and Dubai Lynx. In 2015, he led République to be named the Middle East's Independent Agency of the Year at the Dubai Lynx Awards and the 4th most creative agency overall in Lebanon according to the Big Won Report. ​
LOLA TEHVER
The Director of the Estonian Association of marketing and communication agencies, Estonia
May 27
Lola will perform with the topic "Are you looking to do business as a European company to enter the European market, open a company for 18 minutes and become e-citizen of Estonia?".
Estonia has become the first State in the world, offering foreign businesses service electronic residency. In order to carry out any operations in Estonia/EU not necessarily physically be an Estonian citizen, you just have electronic-digital citizenship. For those who want to enter the European market the important issue is to which jurisdiction will be company. If you have selected the mainstream European market for the company it will be better to register in a member country of the European Union, rather than in their homeland — in Ukraine. Here is Estonia as they say, almost out of competition.