Who entered to 10 jury of the Best Marketing Innovations 2016 contest
The best Ukrainian communication strategists industry will select the most innovative projects at the Best Marketing Innovations 2016.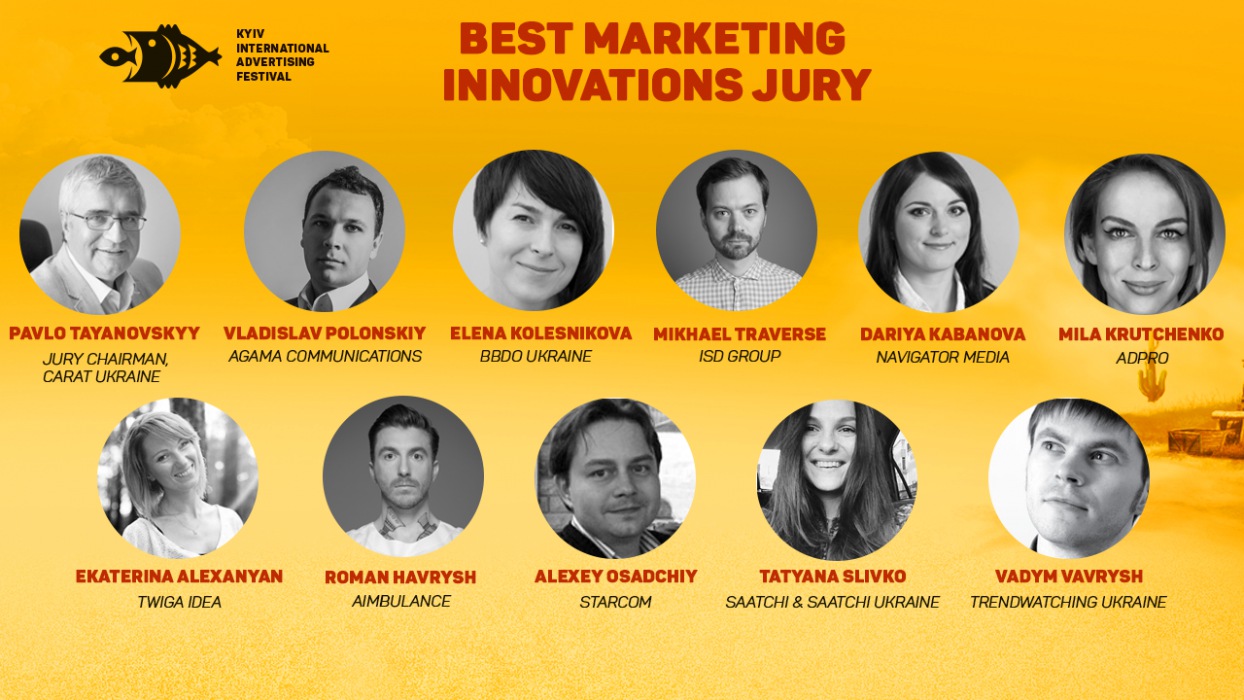 The Best Marketing Innovations jury included strategists and interaction with the media. They will appreciate the creative and unconventional approach the tools of promoting brands, products and services. The multiplicity of competencies of judges ensures a broad view of the work of the participants.
Entries of the Best Marketing Innovations contest on the 17th KIAF will appreciate the 10 Ukrainian strategists under auspices of the Jury Chairman Pavlo Tayanovskyy, director of strategy and transformation at Carat Ukraine:

· Ekaterina Alexanyan, Managing Director at ТWIGA Idea
· Roman Havrysh, Managing Partner at Aimbulance
· Dariya Kabanova, Director at Navigator Media
· Elena Kolesnikova, Strategic and New Business Director at BBDO Ukraine
· Mila Krutchenko, Strategic Director at AdPro
· Alexey Osadchiy, Media Director at Starcom
· Vladislav Polonskiy, Business Development Director, AGAMA communications
· Mikhael Traverse, Strategy Director at ISD Group
· Vadym Vavrysh, Head of Analytics and Channel Planning at Trendwatching Ukraine
· Tatyana Slivko, Account Director at Saatchi & Saatchi Ukraine
Entries must demonstrate innovative approach when implementing the advertising campaign. Evaluation of the members of the jury include creativity and innovation in the use of marketing tools and, as a result, the maximum return on marketing communications brand.
Reminded that in the year Best Marketing Innovations is a part of contest program of the 17th Kyiv International Advertising Festival. Contest results are taken into account of Ranking of the best marketing teams that is called Best Marketing Teams.
Deadline for entries of the Best Marketing Innovations contest within the 17th KIAF is on April 22, so hurry up and register on the contest website.
If you have any questions, please contact organization committee: 0038 (044) 490-90-30, project@vrk.org.ua – Olga Podgorska, contest@vrk.org.ua – Alona Babko.