17th KIAF presents Jury Chairmen of OOH & Advertising Сampaigns and Digital & Mobile contests
OOH & Advertising Campaigns contests will be headed by Matthias Spaetgens, Creative Director at Scholz & Friends Group, Germany, and Jury Chairman of Digital & Mobile contest will be Fadi Mroue, Founder & Creative Director at République, Lebanon.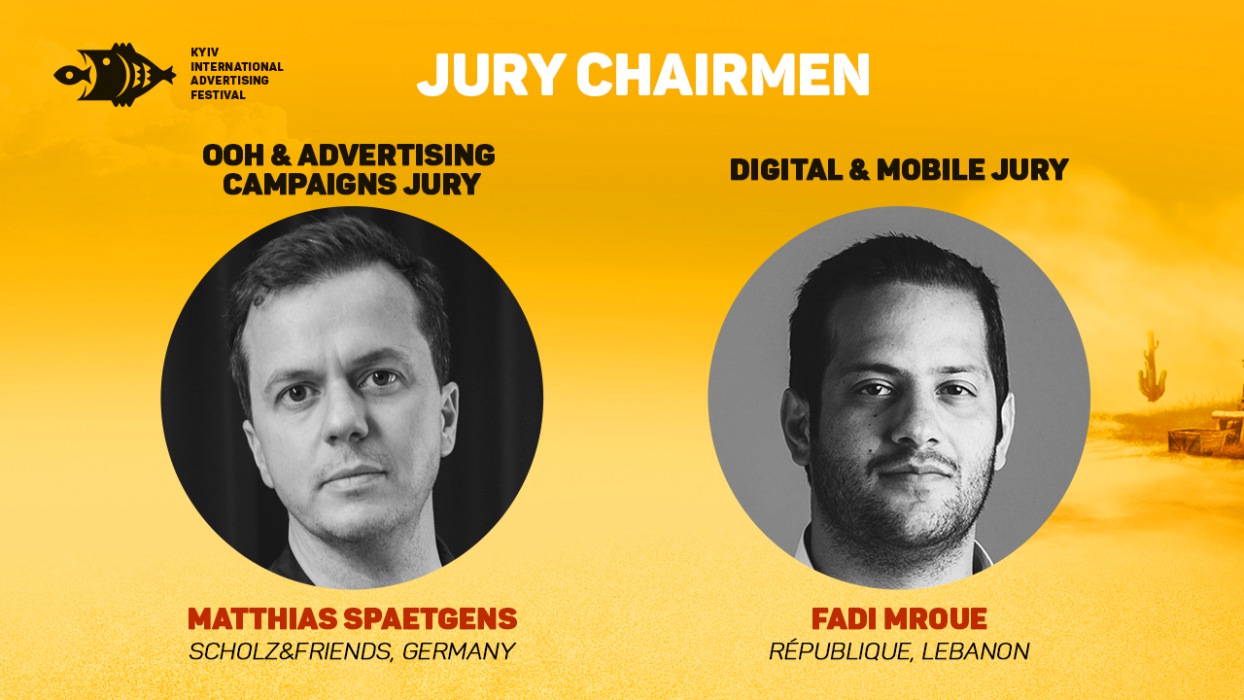 Matthias Spaetgens, Jury Chairman of OOH & Advertising Сampaigns contests

The team of judges OOH & Advertising Сampaigns contests will work under the Matthias Spätgens. The jury will evaluate all kinds of outdoor advertising, as well as advertising campaigns with two or more kinds of media and/or non-media communications.
In 1997 Matthias Spaetgens started career at Scholz & Friends with stations in Hamburg, Zurich (CH) and Berlin. Now he is Chief Creative Officer of the Scholz & Friends Group. Since 2007 he is Managing Director Creation and responsible for the creative performance of the Berlin office. Matthias Spaetgens numbers among the most awarded German creatives. His work, amongst others for A. Lange & Söhne, Frankfurter Allgemeine Zeitung, jobsintown.de, Mercedes-Benz, Montblanc and Weru, was awarded at various award shows, amongst others with more than ten Lions in Cannes and six times the Grand Prix at international creative festivals. He is a member of the Art Directors Club of Germany and Switzerland as well as the British D&AD.
Fadi Mroue, Jury Chairman of Digital & Mobile contest
Jury team of Digital & Mobile contest that will work under Fadi Mroue will evaluate all digital projects – websites, online advertising, mobile apps, social media campaigns, and more.
Fadi Mroue is Founder and Creative Director of République, a digital agency based in Beirut and Dubai. Over his 12-year trajectory, he has accumulated over 30 local and international awards including New York Festivals, Cresta, MENA Cristal and Dubai Lynx. In 2015, he led République to be named the Middle East's Independent Agency of the Year at the Dubai Lynx Awards and the 4th most creative agency overall in Lebanon according to the Big Won Report. ​
After judgingprocess Jury Chairmen of each contests will determinate score range of short list, bronze, silver and gold, as well as the best of contest. In addition, Chairmen of all jury teams will choose the Grand Prix Festival in overall solution.
Deadline for entries of the 17th KIAF is on April 22, so hurry up and register on the contest website.
If you have any questions, please contact organization committee: 0038 (044) 490-90-30, project@vrk.org.ua – Olga Podgorska, contest@vrk.org.ua – Alyona Babko.