17th Kyiv International Advertising Festival presents jury of Digital & Mobile contest
Organizing committee of 17th KIAF announces jury of Digital & Mobile contest. This jury team includes experts from eight countries, representatives of such companies as République, Jung von Matt/Limmat, Famous Publicis Brussels, Bucharest, Red Pepper Moscow Budapest, DDB, JWT Singapore and Vintage.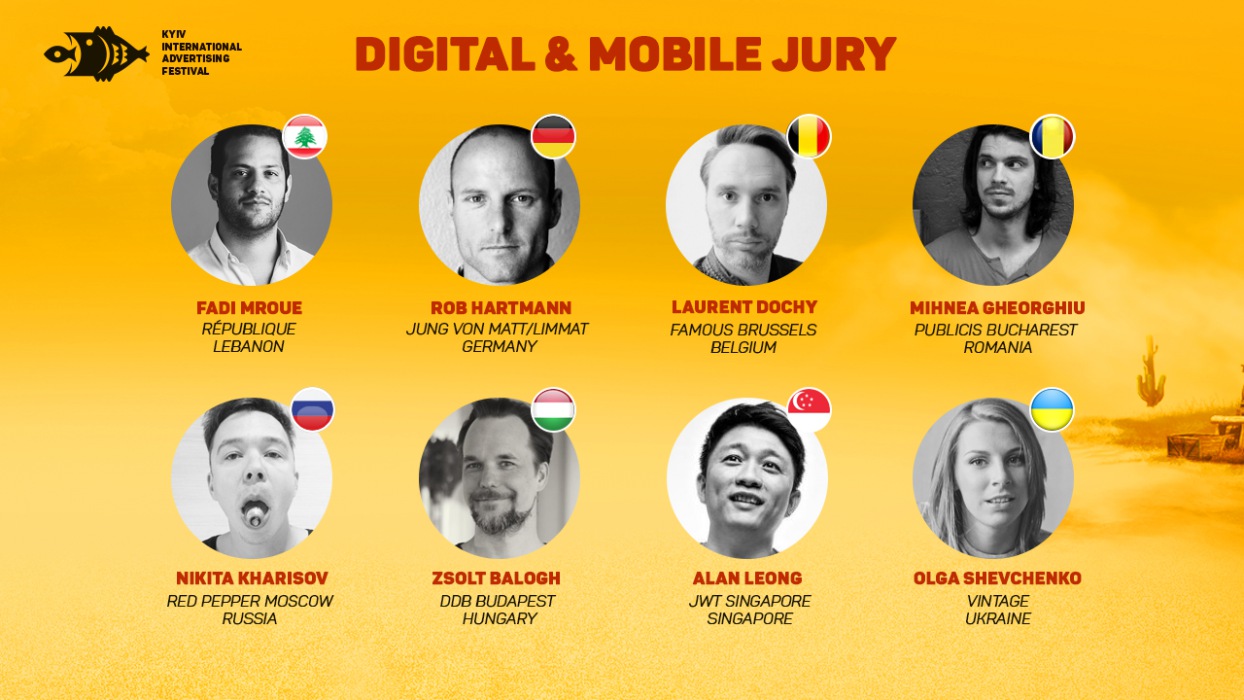 This year Digital & Mobile contest consists of 11 categories. The jury will evaluate all digital experiences – sites, online advertising, mobile apps, social media campaigns, etc. Also the organizing committee invites participants to submit work in the craft category of the Digital & Mobile contest, where the judges will appreciate navigation and interface, illustration and graphics, copywriting skills, animation and motion graphics.
The Digital & Mobile jury of 17th KIAF includes:

· Fadi Mroue, Founder & Creative Director at République, Lebanon
· Rob Hartmann, Creative Director at Jung von Matt/Limmat, Germany
· Laurent Dochy, Creative Director at Famous Brussels, Belgium
· Mihnea Gheorghiu, Group Creative Director at Publicis Bucharest, Romania
· Nikita Kharisov, Strategic and Creative Director at Red Pepper Moscow, Russia
· Zsolt Balogh, Creative Leader at DDB Budapest, Hungary
· Alan Leong, Integrated Creative Director at JWT Singapore, Singapore
· Olga Shevchenko, Art Director at Vintage, Ukraine
On the 17th KIAF there are 12 contests and more than 150 categories. All works will evaluate 8 jury teams: 6 international judges, who are repeated winners of international festivals/contests and participants of the international jury teams (Cannes Lions, New York Festivals, ADC*E, Golden Drum, Epica etc.), 1 jury team of Best Marketing Innovations contest includes strategists and 1 client jury that is generated from advertisers of Ukraine.
If you have any questions, please contact organization committee: 0038 (044) 490-90-30, project@vrk.org.ua – Olga Podgorska, contest@vrk.org.ua – Alona Babko.

Don't miss the chance to take a leading position in the objective rating of 17th KIAF!