10 days before the deadline of 17th KIAF: why registration is not worth to delay on the last day
April 22 is entry deadline of Kyiv International Advertising Festival. Before deadline organizing committee can answer all questions about registration of works and advice suitable categories for entries, mention technical errors in entry cases that are possible to correct until deadline.
17th KIAF is looking forward to see your work!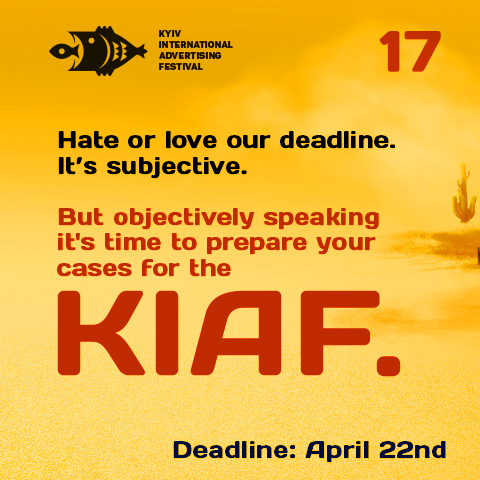 This year at 17th KIAF there are 12 contests, more than 150 categories, and 8 jury teams: 6 international jury teams , who are repeated winners of international festivals/contests and participants of the international jury teams (Cannes Lions, New York Festivals, ADC*E, Golden Drum, Epica etc.), 1 team of Ukrainian strategists of Best Marketing Innovations contest and 1 client jury team that is generated from advertisers of Ukraine.
Earlier the organizing committee of 17th KIAF announced 6 jury teams: Film & Radio, Film Craft and Branded Content & Visual Storytelling, Design & Branding, Digital & Mobile, OOH & Advertising Сampaigns and Best Marketing Innovations.

Don't miss the chance to take a leading position in the objective rating of 17th KIAF!